Help Center for LockDown Browser & Respondus Monitor

Note to students: The LockDown Browser download link and application are different for each institution. Contact your instructor or your institution's help desk to obtain the correct download URL. View more LockDown Browser Student Help here.
Help Center is a feature for LockDown Browser and Respondus Monitor that enables students and help desks to more easily troubleshoot technical issues with a student's computer.
The Help Center button will appear on the toolbar in LockDown Browser once a student has accessed a course in their LMS.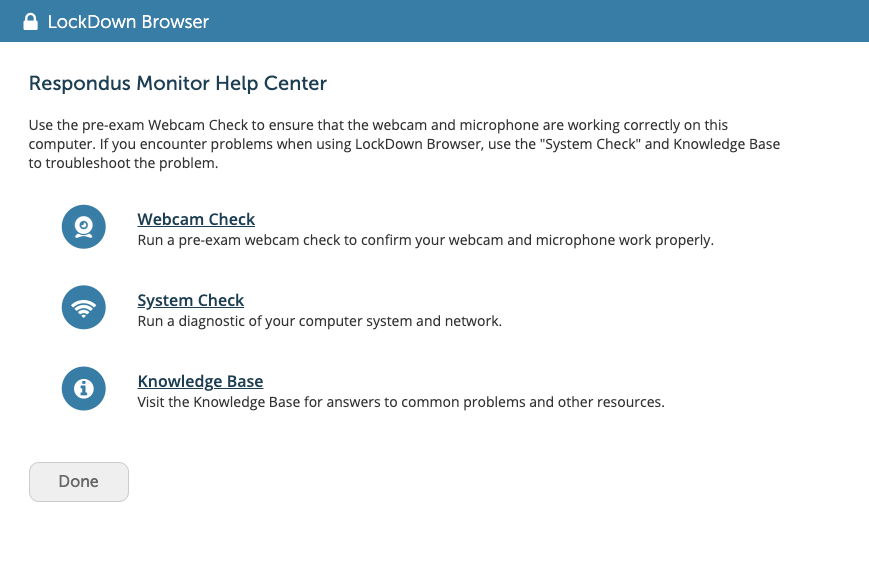 The Respondus Monitor Help Center contains three areas:
Pre-exam Webcam Check – Enables a student to check their webcam functionality, prior to an exam.
System & Network Check – Runs a series of diagnostic checks to make sure the student's computer is functioning properly and meets the minimum requirements. The results of the system check can be emailed to a help desk for further troubleshooting.
Knowledge Base – This student-centric knowledge base provides answers to the top questions or issues that relate to using LockDown Browser and a webcam (ie. Respondus Monitor).
Additional Information for Help Desk Staff